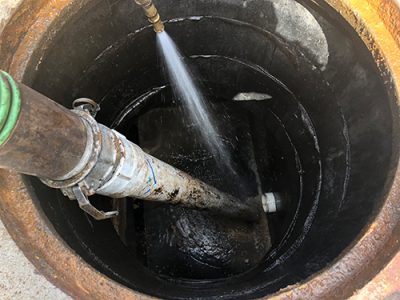 Safeway Used Oil and Grease is a premier providers of commercial grease trap cleaning company in Saint Bernard, LA. We are proud to partner with commercial, institutional and industrial clients to provide thorough restaurant grease trap cleaning services.
If you're in immediate need of a commercial grease trap cleaning company in Saint Bernard, Shell Beach, St. Bernard Parish, and New Orleans, LA, you can call Safeway Used Oil and Grease at any time. Our veteran team of grease trap specialists offer dependable emergency services, designed to meet even the most dire grease-related needs.
Grease Cleaning Services
You should seek restaurant grease trap cleaning on a regular basis, provided by a trusted service partner. In the meantime, there are several steps you can take to minimize clogging and systemic damages caused by an overload of grease:
Scrape Away
One way to reduce the amount of grease that ends up in your grease trap is to thoroughly scrape everything before it ends up near your sink. Be sure to remove all food particulates before throwing your dishes in the sink.
Develop a Spill Plan
If there's a grease or oil spill at your restaurant, it's often tempting to mop it up and pour it down the drain. This practice often leads to grease traps becoming prematurely clogged, however. You should instead use solids, like bentonite clay, to pick up spilled grease.
Avoid the Disposal
Garbage disposals are essential tools in most industrial kitchens. While they're great for breaking down tricky vegetable matter, they're not designed to eliminate grease. Try to keep grease out of your disposal!
We are capable of providing grease trap cleaning services and cooking oil recycling for residential, commercial and institutional clients, including restaurants, hotels, hospitals, schools and more.
Schedule Restaurant Grease Trap Cleaning
To learn more about how you can take advantage of Safeway Used Oil and Grease's high-quality commercial grease trap cleaning services, contact one of our friendly waste oil collection representatives today at 504-650-3195.